DateBillionaire - a Sub Brand of MillionaireMatch Focuses on Billionaire Dating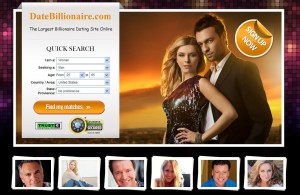 DateBillionaire.com, from the Millionaire Match group is said to be the next big thing in the online millionaire dating segment. The site is dedicated to millionaire dating and all the features incorporated by it are tailored to meet these requirements. Millionaire Match, which has proven its mettle in the last 15 years, is all set to take the market by storm once again.
Millionaire dating has always been popular among youngsters. However the trend didn't quite catch up until the online dating industry came into picture. The most difficult aspect of millionaire dating has always been the first step – approaching an individual. These websites aim to bridge this gap and allow wealthy people to find a companion.
Dating expert Particia, who is also a dating counselor on a popular dating website said during a media interaction, "There is no doubt about the fact that millionaires make the most desirable dates today. However, I have come across many wealthy men and women who wish to date non-millionaires, owing to their simplicity."
According to a recent survey, 80 percent of millionaires and billionaires who are single seek a companion or life partner who isn't as rich as they are. "Millionaires are no longer looking for rich partners who are always occupied and busy in making money. Instead they want someone with whom they can spend some quality time, hang out and go on vacations", she added.
During a press meet, a spokesperson of the website said, "Millionaires are busy individuals and need an exclusive platform to find a prospective partner. They cannot spend a lot of time on dating sites. Their needs and the way they perceive things are very different from others. This is why we worked hard and developed a platform exclusively for them. Our objective is to simplify the process of dating for the wealthy."
The introduction of DateBillionaire.com will certainly make the online wealthy dating segment more competitive. The fact that this website offers free registration is sure to attract a great deal of users. The site allows users to search for a prospective match based on their location, income level and several other parameters. Moreover, wealthy users can choose to become certified members and add credibility to their profiles.
Email, e-greetings and 'flirts' are some of the connectivity options that can be employed to send personal messages. DateBillionaire.com isn't just about finding an ideal partner, it also boasts of dedicated sections for tips and expert advice on anything pertaining to dating. There is also a blog section on the website where members can not only read the opinions of others but also voice their own thoughts.